<![if !vml]>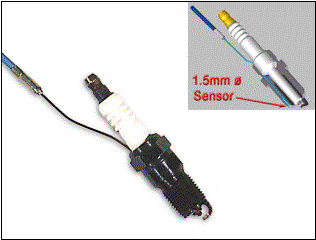 <![endif]>
<![if !supportEmptyParas]> <![endif]>
<![if !supportEmptyParas]> <![endif]>
Contact: Rapheal Wlodarczyk
Sales and Marketing
Phone: (734) 451-3480
Fax: (734) 451-2945
E-mail: sales@optrand.com
Web Site: www.optrand.com
<![if !supportEmptyParas]> <![endif]>
March  6, 2000

PLYMOUTH, MICHIGAN ---- Optrand introduced a new Generation of Pressure Measuring Spark Plug, the CALplug™, at the Society of Automotive Engineers (SAE) International Congress and Exhibition at Cobo Center in Detroit, March 6 through March 9, 2000, Booth # 1872.
<![if !supportLineBreakNewLine]>
<![endif]>
    The CALplug combines a modified production spark plug with Optrand's fiber optic-based AutoPSI™ pressure sensor. A miniature sensor, 1.5mm in diameter, is flush mounted inside the spark plug metal shell thus having unrestricted and direct access to combustion cylinder pressure. The resulting device is free of channel-related phase delays or resonances up to engine speeds as high as 18,000 RPM. Most of spark plugs with M14 threads can be modified. When used with the temperature-compensated AutoPSI-TC™ sensor, the CALplug offers a total ±1% Full Scale Output pressure reading accuracy, including: linearity, hysteresis, thermal shock, repeatability, and calibration stability. The CALplug is available in two pressure ranges: 0-70 bar (~1,000 psi) and 0-200 bar (~3,000 psi).
     The device is specifically designed for knock detection, calibration and mapping of racing as well as conventional engines. The CALplug is an ideal device for in-vehicle operation when used with portable data acquisition equipment and is also particularly well suited for racing applications where a flush mounted sensor eliminates any channel artifacts under high RPM.
    The CALplug is the world's only pressure indicating device that offers performance of water-cooled head-mounted sensors, without the need for engine head drilling and sensor water cooling, at a fraction of cost.
    Utilizing a robust construction based on a flexing metal diaphragm, which does not involve any transfer pins or other mechanical coupling mechanisms, Optrand sensors offer an exceptional durability of up to 1 billion pressure cycles making it suitable for use in production gasoline and diesel engines. Other features include resistance to high temperatures (combustion or 300oC continuous) and immunity to Electromagnetic Interference/Radio Interference (EMI/RFI).
   Optrand, Inc. is a Plymouth, Michigan based developer and manufacturer of fiber optic sensors targeting automotive and industrial applications.